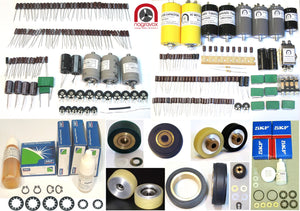 Finally, after careful design and planning, Nagravox is pleased to announce a move beyond the Ebay platform to our own dedicated e-commerce store. Our new website has greater usability, better pricing, and more shipping options to create a seamless purchase experience for all your Revox, Studer and Nagra vintage audio needs. 
 
Great new features:
Our entire catalogue can be searched using the search box on the top left of your screen - great if you know exactly what you're looking for!

Our product list can be filtered by product category and model number using a sorting filter on the top left of the product listing

Extensive FAQ section providing detailed answers and advice for common questions we receive regarding the ordering process, various products and model specific information. This section will be continually revised and extended based on feedback.

Subscribe to our mailing list using the subscription box at the bottom of the page. We promise we won't send you any annoying spam - just succinct and interesting newsletters with articles, tips and the latest news about Nagravox.

Utilise the contact form for speedy communication for all your enquiries 

We hope you enjoy using our new website for your next order!