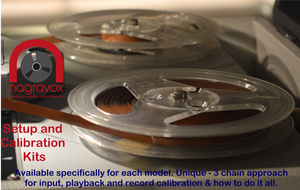 The rationale behind Nagravox calibration kits is to provide an appropriate set of tools, instructions and resources to calibrate and setup a specific model Revox or Studer machine.
A cheap short generic reel of tape recorded by an enthusiast to try and make some money from his tape machine on ebay is frankly not going to help you to really setup and calibrate your machine properly.  Calibration is the final step and is not just a process of throwing on a playback tape and tweaking some trimmers!  All 3 chains must be considered as well what gear you need to do it all. Modern tape formulations, relevant steps and the peculiarities of a particular model and later factory updates not in factory manuals need to all be taken into account. The Nagravox calibration kit is designed to setup and calibrate your machine fully and properly.  Each kit is tailored for a specific machine and your requirements.
Nagravox kits include
Playback calibration tape or tapes  - most Revox are 1 but Studer machines require 2 – 6   
Record setup tape for calibrating the record chain
A set of detailed instructions, explanations, equipment needed, diagrams and check sheets SPECIFIC to your particular model machine. These are based on Revox Studer manuals, Factory Tech Bulletins, industry best practice and Nagravox's own experience repairing, updating and restoring tape machines. 
SOME GUIDELINES ON TAPE TYPE
Sometimes you may have to use tape that perhaps your machine was not set up on. I make the following comments, bearing in mind 'you dont get something for nothing' and these are rough guidelines.


SM900 and LPR90 have the same magnetic properties as does SM911 and LPR35. So setting up on one is applicable to both alternatives respectively.
Due to the higher 'magnetic density' of SM900 / LPR90   using LPR35 and LPR90 interchangeably will be problematic but not impossible.
SM900 /LPR90 is a superior tape in my opinion. SM900 is obviously far more durable than the thinner long play variant LPR90. (Similar comment applies to SM911/LPR35). Again, in my opinion, I suggest the following rough use guidelines for 1/4" tape

Re-recording over  SM900 / SM911 - 15x    LPR35/LPR90/SM468  8x
Playing pre-recorded. This is dependent on machine but generally I would apply the following:

 

early Revox 36 series &

 

early Studer C/J37 machines  80 - 150x    

 

Revox A77, B77, PR99 mk1/2 150 300x, 

 

Revox PR99 mk3, C270, A700 and all Studer machines  200 - 400x

 

If you will use mainly LPR35/SM911 and occasionally SM900/LPR90

Calibrate and setup on SM911/LPR35
Increase max recording level  by +3 Db for SM900/LPR90

If you will use mainly SM900/LPR90

    Calibrate and setup on SM900/LPR90
   

 

Reduce

 

max recording level by -3 Db for SM911/LPR35

 

SM468 is again another case. If you mainly use SM468 then you should calibrate for it exclusively and occasionally if you use

SM911/LPR35 - you could, increase max recording level by ~ +2 Db
SM900/LPR90 - you could increase max recording level by ~ +4 Db